Daily Bread
Wednesdays from 10:45 a.m. - 12:15 p.m.
Each week in our Family Life Center we serve a free Wednesday lunch that is open to the community. Come in, pull up a chair, and enjoy great food and great conversation!
There are always needs to assist in meal preparation and serving. If you have any questions or would like to learn how to be involved, email Janelle at .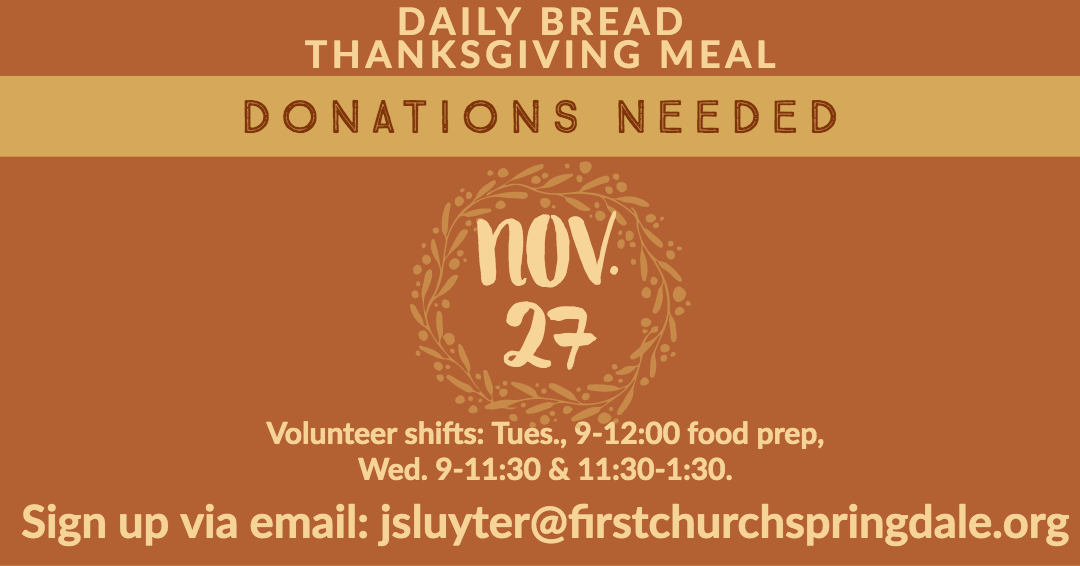 Thanksgiving meal donations needed:
• 25 Turkeys (12-15lbs.)
• 24 #10 Cans Green Beans (Sams)
• 10 10lb. Bags Potatoes
• 3 Cartons Poultry Gravy (Sams)
• 20 16oz. Bags Stuffing Mix
• 10 Bunches Celery
• 20 Cartons Chicken Broth
• 12 #10 Cans Corn (Sams)
• 20 Large Foil Pans
• 30 Cans Cream of Mushroom Soup
• French Fried Onions (25 small or 8 large (Sams)
• Homemade Desserts